Have you thought about Berlin ?
Berlin is one of the city which was on my trip wish list for many years. OK maybe not many years, but quite a time let's say. I was thrilled to visit this city and I didn't really know what I would be discovering in there. These 3 days business/private trip gave me a first impression of this dynamic, colorful, tasteful and vibrant city.
Berlin : a surprising food destination
[caption id="attachment_249" align="alignright" width="300"]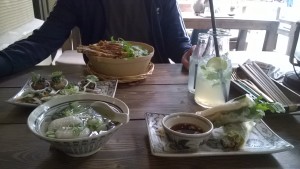 Food in Berlin is amazing[/caption] For food lovers as I surely am, you will be surprised to see that Berlin has simply great food. I was expecting sausage, (Wurtschen), and "Sauerkraut" and was a bit puzzled about the question of the food.
But all my food concerns turned out to be false, shame on me! The Berliner food is amazing.
You will find great restaurants at every corner; Indian, Thai, Basque, etc. there is something for every taste. Noon arrives and you are looking for something to eat on your way? The Sudanese Kebab will change your life! It did change my conception of Kebab for the rest of my life. A mixture made of peanut butter sauce on the top of falafels, the all served in a pita bread can make your day different I assure you. Don't look at the calories though. All the calories taken will disappear after your sightseeing day which is still in front of you.
Get a bike !
To travel into the city, I would recommend to rent a bike if the weather allows to. In case of rain, you can still decide to take the metro (S-Bahn and U-bahn) which connect very well all the corners of the city. You can also decide to experience Berlin as a Berliner and bike even if it is raining. An advice though; please pay attention to the walkers while biking, we had a chance not to be hurt by a 30km/h coming to us like hell. I love biking and bikers by the way which is in my opinion the greener mean of transportation in a city. Let's keep this for another post. ☺
1 - Want to feel like a movie star ? --> Adlon Hotel
[caption id="attachment_247" align="alignright" width="169"]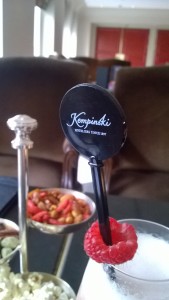 Hotel Adlon - Berlin[/caption] Now, I would like to share with you my personal views about the hotels I visited during this great trip. Firstly, we have been to the famous Adlon hotel which is part of the Kempinski family. The situation of this property has to be highlight since there is no other conference hotel in this street "Unter den Linen " which is the heart of Berlin.
Adlon hotel is this iconic hotel you must have heard about, since the film "Unknown" has been shot there.
You actually feel like in an actor in this property while walking in the corridor or if you order a Bellini at the bar.
Want to discover the city with a free bike ? --> The Scandic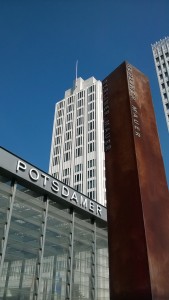 The special thing about the Scandic Potsdamer Platz where we had the chance to stay is its situation which is ideal, especially for nature lover or runner. Why? Because the hotel is situated a few steps from the Tiergarten which is the largest park of the city and in the same time, you can easily reach the Brandburger gate and all the main points of the city with the metro stopping at Potsdamer Platz.
The hotel offers bikes to its guests which you can simply book at the reception.
Conference-wise, the hotel has a superb, very flexible, large and high conference room with daylight. As all the Scandic properties, this hotel is very proactive when it's about respecting the environment and reducing the energy. They even have bee houses of their roof!
How does a perfume cocktail taste ? --> Ritz Carlton
[caption id="attachment_248" align="alignright" width="169"]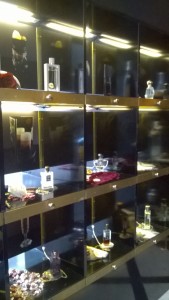 Perfume cocktail in the Ritz : an unbelievable experience[/caption] I visited the Ritz Carlton which is located at the Postdamer Platz, a few steps from the Brandburger gate. The Ritz Carlton offers to his guests a unique hotel experience. I have seen something there which I had never seen before in a hotel. The Ritz has a cocktail bar (Ok nothing WOW in that until here I agree) very special. While entering the bar, on the walls, you will see some shelves. On every case of each shelf you have 1 bottle of perfume, displayed with some herbs and spices.
With all these ingredients, the barman will prepare you a cocktail, based on the fragrance you will choose.
You will have the cocktail perfectly made for you. Fantastic isn't it? Also, for events planner looking for a very special venue for opening ceremony or gala dinner for instance, you will be surprised to know that we can organize any sort of events, even conference, underground. No I am not joking, this is real. In front of the hotel, you have the Potsdamer Platz metro station.
One of the metro gallery is not used anymore and can host corporate events. 
The "underground" Berliner experience until the end of your conference. Ready to start this unique experience? ☺ Tschuss und bis bald. Merybelle